We offer a full range of products and services to waterproof and protect concrete structures and reinforcing steel against salt and other aggressive chemicals. The products that we use considerably reduce the penetration of chloride ions while allowing the concrete to breathe.
Proven professional experience
A combination of technical expertise and numerous years of experience allow our technicians to respond effectively to your expectations.
Elastomeric membrane made of polyurethane or epoxy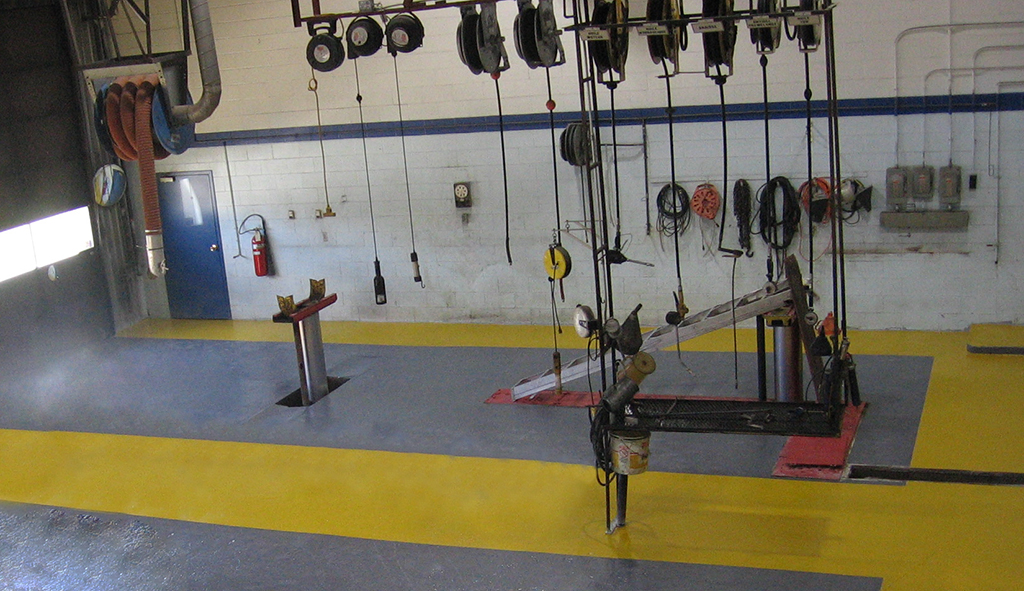 Application of an epoxy resin in a municipal garage
The application of a waterproofing membrane or epoxy coating reduces carbon dioxide, chloride ion and water penetration while enhancing the aesthetic aspects of the structure.
Ideal for protecting:
Parking decks
Factory floors
Building buildings
Balcony tiles
Hot applied bituminous membrane
The bituminous membrane is highly recommended to protect structural concrete surfaces. It must be covered by a running surface, either asphalt or a concrete topping.
With exceptional resistance and durability characteristics, this type of membrane is made of a frame coated with bitumen.
Crystalline-based coating
Developed for waterproofing drinking water reservoirs, basins and foundations, the crystalline-based coating is a unique chemical treatment that waterproofs and protects concrete. This method prevents the penetration of water and other liquids by causing a catalytic reaction resulting in a crystalline formation.
Silane-based protection is a penetrating monomer solution that creates a waterproof barrier (hydrophobe) on the surface and underside of masonry and concrete components. This type of covering significantly reduces the penetration of chloride ions and allows concrete and masonry to "breathe," while slowing the effects of corrosion.
Abrasion-resistant waterproof coating
Ideal for industrial basins, drinking water reservoirs, tanks and other similar structures, this coating protects concrete from chemical products and other corrosive elements.