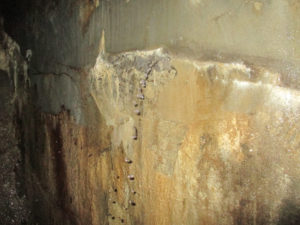 As part of a major project with the City of Montreal to maintain and seal potable water reservoirs throughout the Island of Montréal, Dumoulin & Associés is proud to announce that it has completed a crack injection project of rare complexity at the Vincent d'Indy reservoir.
These cracks had a major leak of pressurized water which represented a loss of potable water for the City of the order of a few hundred gallons per minute. Without being able to reduce the water level and thus the water flow in the reservoir, our company had the difficult task, in collaboration with Les Produits Krytex®, to design a unique and specialized work method statement to seal leaks and make the tank waterproof using NSF-61 certified products.
The videos of before and after our intervention demonstrate the success of our intervention. At Dumoulin & Associés, we are always looking for new challenges and we are grateful to be supported by exceptional suppliers.
| | |
| --- | --- |
| Before intervention | After intervention |